At Kleen Scene, we offer a vast array of diverse cleaning and disinfection services to help serve our community in the most difficult of circumstances. Below you will find a full list of our most highly requested services. If you can't find what you're looking for, please call us and we'll do our best to accommodate your specific cleaning needs.
Contact us now at (716) 440-8071 for assistance.
Biohazard Cleanup
We provide expert, professional cleanup for blood and bodily fluid contamination to include all biohazard and trauma incidents, including homicides, suicides, unattended deaths, accidents, and infectious disease outbreaks. We provide the utmost care in serving your family, business, and community during difficult circumstances that are beyond your control.
Mold Removal
Whether you've dealing with a water loss or general humidity issues, mold growth can begin rapidly. We are here to help by offering a free evaluation, so please don't hesitate to call.
Hoarding Cleanup
Kleen Scene is here to show compassion and patience when the time comes to clean up and prepare your property for safe living conditions. We create a personalized plan to ensure we take proper care of your belongings as we clean out your home and work through the cleanup process together.
Distressed Property Cleanup
We use our decades of expertise to clean out abandoned homes, dwellings, and neglected properties that have not been properly maintained. These properties can certainly pose a public health risk and should only be handled by properly trained personnel.
Decontamination of First Responder Vehicles
The spread of infection is significantly high, with a large number of people getting in and out of emergency vehicles, including police cars, ambulances, and firetrucks. We effectively clean and decontaminate first response vehicles to ensure all harmful microorganisms, infectious diseases, and other biohazards have been removed to ensure they are safe for future use.
Virus and Infectious Disease Decontamination
Kleen Scene offers professional cleaning and disinfection of homes, vehicles and commercial buildings due to any possible virus or disease contamination, including the current Covid-19 Coronavirus pandemic. We use state of the art equipment and procedures along with EPA registered disinfectants effective against a wide array of viruses and bacteria specific to your particular situation, including the Novel Coronavirus Covid-19.
Odor Removal
Kleen Scene is certified by the IICRC as a certified odor control technician. From skunk odors to decomposed cadavers, Kleen Scene has a solution for your odor problems.
Garbage & Debris Removal
As part of our specialty cleaning services, we offer garbage and debris removal. We take care of everything, from providing the dumpster to the removal of trash and other debris. No matter the situation, we are here to help make it easy to remove the clutter and mess.
Animal & Rodent Waste Cleanup
Whether it be from a hoarding property with multiple animals or an infestation of bats which produced guano damage in your attic, Kleen Scene will handle the proper removal of all waste and a complete disinfection of all affected areas.
Post-Sewage Backup
We understand the stress that comes when a sewage backup creates an overwhelming mess and unwanted odors. Kleen Scene will efficiently clean up all contaminants and disinfect the entire area, making it livable again in no time.
Contact us now at (716) 440-8071 for assistance.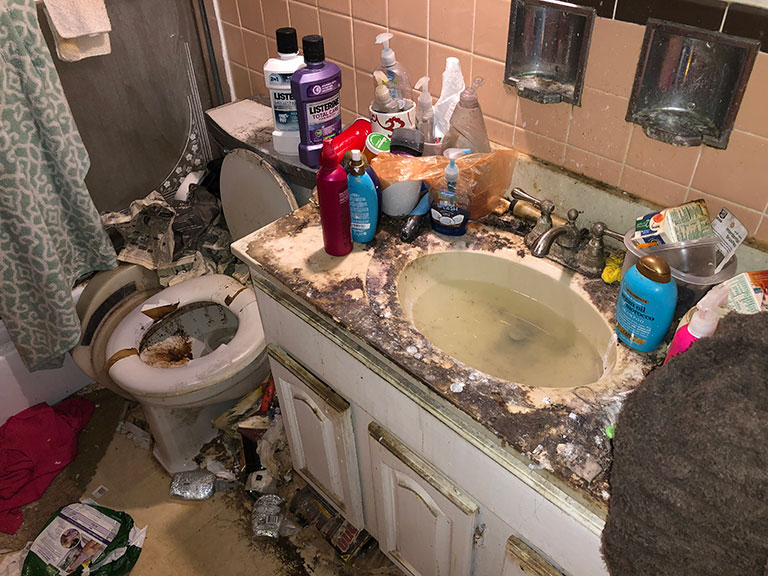 A bathroom in poor condition.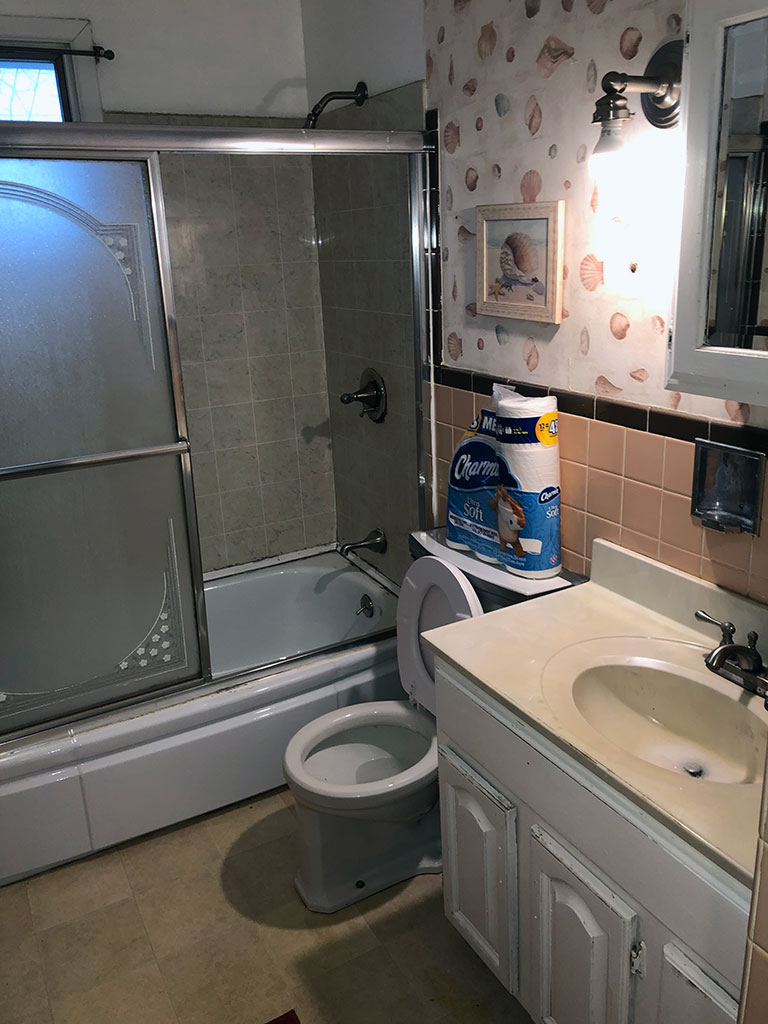 After cleaning by Kleen Scene.